"We have always understood that you can't solve today's problems with yesterday's solutions."
This is the forward-looking approach that has seen Privium achieve top ranking in the latest HIA Housing 100 Report as Australia's No. 1 townhouse builder and Queensland's No. 1 low rise residential builder.
After 22 years of growth and development as Impact Group AUS, the organisation began an exciting new chapter in December 2018. Rebranded as Privium, they continue to deliver high quality projects across Queensland's eastern seaboard, including house and land packages, land subdivisions and townhouse developments.
In keeping with its innovative attitude, the Group's newest arm, Privium Design and Construct, has chosen the revolutionary Hebel PowerPanel50 external wall and intertenancy wall systems for one of its latest projects, PARC Townhomes in Pinelands Road, Sunnybank Hills, QLD.
Buyers snap up modern townhouses
Located just 16 kilometres from Brisbane's CBD, the 93-townhouse development is being constructed in two stages. The 47 homes now under way in the first stage are already sold, with work on the 46 homes in the second stage expected to start in May.
The overall project, including a recreation building, swimming pool, outdoor chess board, exercise area, community garden, children's playground and barbecue areas, is scheduled for completion around February 2020.
Hebel's PowerPanel50 systems were selected for external and intertenancy walls of the stylish four-bedroom townhouses.
John Sharp, who heads Privium Design and Construct with fellow Project Manager Ben Mayne, said this was the first time the group had used Hebel in a project. Factors driving the decision to change to Hebel included cost, value & the recent introduction of the system in March last year.
"The Hebel PowerPanel50 was a cost effective solution," John said. "We have now made the change across the Group, and will be using Hebel for all intertenancy walls. External use will depend on what is advantageous to the individual projects, but it has come up well on this project and we are pleased with it."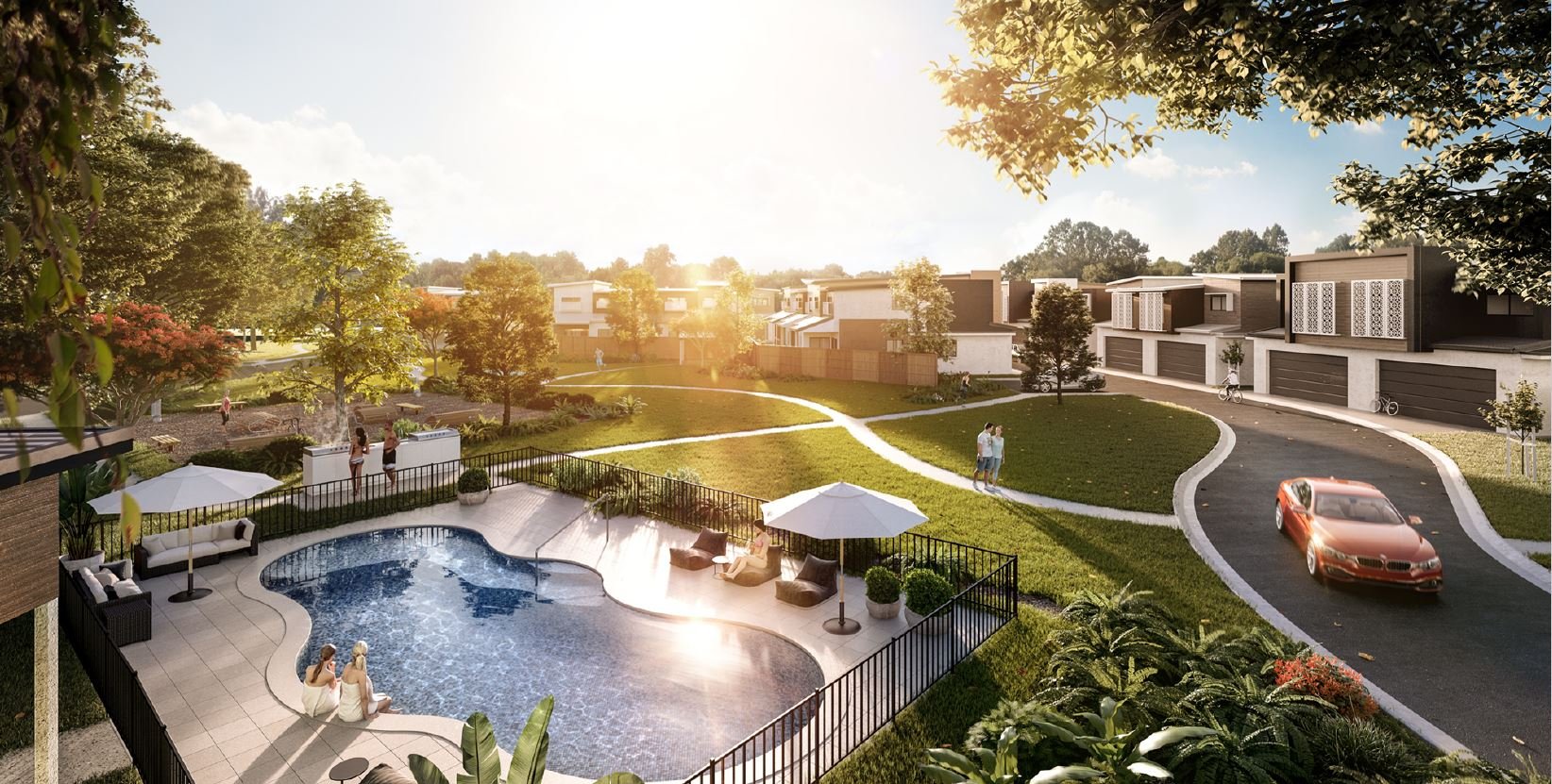 Park Development by Privium Design & Construct - Render
New Hebel 50mm panels offer special benefits to builders
Even more of an incentive to make the change to Hebel was the availability of the PowerPanel50 systems, developed by CSR Hebel and introduced to the Australian market in 2018.
"The speed of installation (on intertenancy walls) is probably similar for the Hebel 50mm and 75mm PowerPanels, said John. "The 50mm panel is lighter, and easier to handle on site."
Another standout advantage of the Hebel PowerPanel50 is that it can provide homeowners with larger internal areas, while still ensuring the walls are solid and secure.
It has also been of benefit to the PARC Townhomes project in providing a lightweight solution to satisfy acoustic requirements.
"The Hebel panels meet the acoustic requirements where other lightweight cladding wouldn't stand up to what was required," said John.
"This has definitely been an advantage to the project, along with the benefits of time and cost savings that the Hebel systems provide."
Considering Hebel for your next project?
Download the Hebel PowerPanel50 Design and Installation Guide to learn more.